Link your Aadhaar Card with PAN before June 30, 2021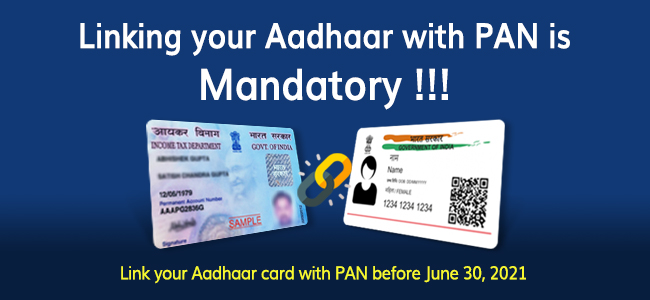 As you are aware Income Tax authority has made it mandatory to link PAN with Aadhar without which Pan will be treated as Invalid effective 1st July 2021.

If PAN is not linked with the Aadhaar for all the holders in a Folio by 30th June 2021, the following process will be applicable:
New Inflows/new SIP/STP/SWP DTP registrations, Additional Purchases, Switches will be restricted.




Existing SIPs/STPs/SWPs will be ceased.




Restrict investor-initiated Redemptions.




Deduct higher TDS for Dividends.




Allow Dividend processing, Maturity processing and other non-investor-initiated transactions, but payout will be withheld.




Process NFTs on PAN updation /correction only after due validations.



This is applicable for all modes of transaction sources including Online, Digital, Channel, Exchange modes.
How to Check if my PAN Card is Linked with Aadhaar Card or not

You can

check PAN-Aadhaar linking status

on the Income Tax India website.

Enter your PAN and Aadhaar Number and click on 'View Link Aadhaar Status'

If your PAN and Aadhaar number are linked, you will get the message as 'Your PAN is linked to Aadhaar number XXXX XXXX XXXX'. The confirmation message will display the last four digits of your Aadhaar number.

How to link your PAN with Aadhaar

PAN-Aadhaar card linking via Income Tax India website


PAN-Aadhaar card linking via SMS.



PAN-Aadhaar card linking via Income Tax India website


Click on '
Link Aadhaar'
on the left side under the '
Quick Links'
section.

Fill in the PAN, Aadhaar number and other required details like your name as per the Aadhaar card, etc.

You need to fill in the captcha or request for an OTP on the registered mobile number, following which, if the details match, your PAN-Aadhaar linking will be successful.
PAN-Aadhaar card linking via SMS.
For linking Aadhaar card and PAN via SMS, the user needs to ensure that both the documents are registered under the same name. Your mobile number should also be the same as the one registered for Aadhaar.

If the requirements are in check, open the messaging app and type UIDAI space 12-digit Aadhaar card number space 10-character alphanumeric PAN details and send it to
567678
or
56161
. For Example, if your Aadhar number is
109876543210
, and your PAN is
ABCD1234E
, then send type
UIDAI space 109876543210 ABCD1234E
and
send it to 567678 or 56161
.

After sending the SMS, you will be notified after the PAN-Aadhaar linking is done successfully.

Related Articles

HDFC FD - Interest Rates are changing

*|MC_PREVIEW_TEXT|* Interest Rates on Deposits for Individuals ( Fixed Deposit rates valid till 4th june 2020 only ) Disclaimer: Infinity Finserv Pvt. Ltd. is the distributor for HDFC LTD., with no liability. Book Your Fixed deposit before 4th June ...

Learn to Earn - Infinity Finserv Year Book 2020

What Is an Investment? An investment is an asset or item acquired with the goal of generating income or appreciation. In an economic sense, an investment is the purchase of goods that are not consumed today but are used in the future to create ...

Exciting opportunity to invest in great-unlisted companies

What does unlisted company mean? An unlisted security is a financial instrument that is not traded on any of stock exchange, but through over-the-counter (OTC) market. Unlisted securities are also called OTC securities. Market makers facilitate the ...

There are new runners on top chart- as the lap is changing

Our new recommendations to MF Portfolio We sent an important note on 18th May 2020 to all our customers through E mail with heading : 'Watch our new additions in the MF portfolio' ,suggesting you to add some new entrants in your MF portfolio, which ...

Understand the business model - Banks and NBFCs

Business model of Banks are different from other business. We are more accustomed with "manufacturing" business models. Which is as below: Spend money to buy resources (Cost). Use resources to produce goods & services. Sell goods & services to earn ...